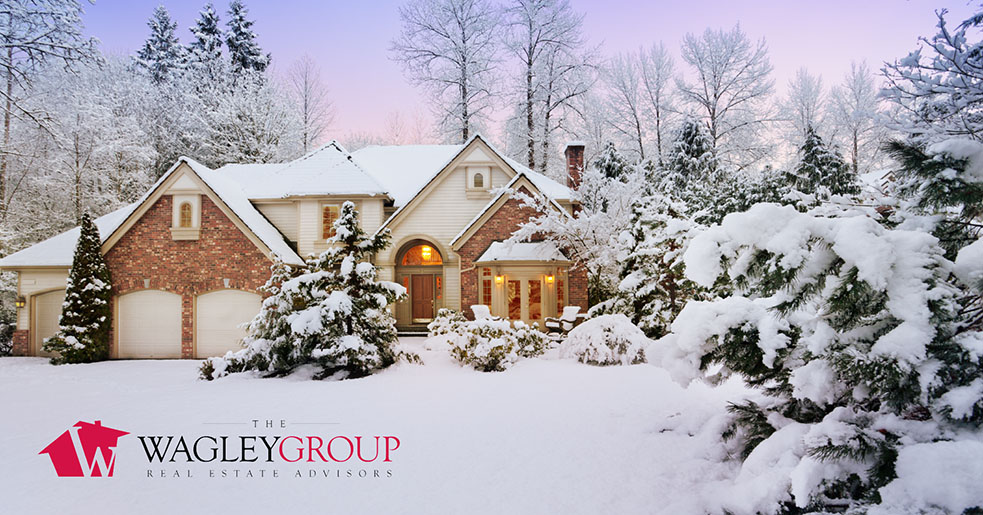 As the weather gets cooler and the leaves change color, many of us start looking for an excuse to spend time outside. If you're a homeowner, we have great news: there's plenty of outdoor tasks to prepare your home for winter!
Between trips to the pumpkin patch and chilly walks with warm apple cider, it's important to make time to get your home ready for the long winter months. Preparing your home for cold weather will save you the headache of snowy emergencies and let you enjoy the winter days, stress-free.
Whether you're a new homeowner or have spent twenty years in your dream house, refreshing yourself on your pre-winter checklist is always a good idea. Here are some things that should be on any homeowner's fall to-do list:
Grab Your Gloves
Watching the leaves turn bright, beautiful colors is one of the best parts of fall. But letting the leaves clog up your gutters will make for an ugly winter. Once most of the leaves have fallen, it's time to grab your gloves, set up your ladder, and start cleaning out your gutters.
But safety should be your number one priority! So, if climbing up a ladder isn't a safe option for you, call a professional to give you a hand.
A gutter clogged with leaves, sticks, or debris can cause roof leaks, interior and exterior water damage, or become a nest for pests. Cleaning out your gutters is necessary preventative maintenance for your home and is an easy fall task that can save you a ton of headache later on!
Up on The Rooftop
Before old Saint Nicholas and his reindeer land on your rooftop, you should check that your roof is ready for twinkly lights and heavy snow.
Getting your roof inspected regularly is a great way to spot small problems before they become huge issues, saving you on repairs or a replacement down the road. When a professional inspects your roof, they'll check your shingles, flashing, valley, and gutters for any signs of damage.
Baby, It's Cold Outside!
No matter what system you use to heat your home, checking that it's safe to kick on before the first cold morning is a necessity!
If you use a central heating system, it's time to change your furnace filter. Most heating systems last 10 to 15 years but can last much longer if they're properly maintained. If you have an older furnace, hire a professional to inspect it so you can stay warm all winter long.
If you use a wood-burning fireplace, it can be hard to clean it yourself. To keep you and your family safe, it's a good idea to have someone clean and inspect your chimney. They can also help identify any maintenance that might need to be done before you light your first fire of the season.
Got Water?
Purging your sprinkler system can keep your pipes from freezing in the winter and causing damage, protecting you from a dreaded pipe burst and saving you money.
If you're a new homeowner, you might not know how to properly purge your sprinklers and winterize your system yet! For a more detailed "How-to", check out this Home Depot article about winterizing your sprinkler system, or you can call your local lawn maintenance service to give you a hand.
Follow the Flow
Every fall and spring, take a walk around your house to check the drainage. You'll want to make sure there aren't any opportunities for water to pool around your foundation. Check for low spots in the soil and, if you find any, simply fill them in with dirt to divert water from your house.
While you're at it, check that your gutter drains are pointed away from your house and buy drain extenders if necessary. You want to make sure all the water will flow away from your house once the snow starts to melt.
Play It Safe
Home fires happen more in the winter than any other season (NFPA). While you're prepping your home for winter, dig some fresh batteries out of your junk drawer (it's okay- we all have one) and replace the old ones in your smoke and carbon monoxide detectors. You should replace the batteries in each twice a year and check that the sensors are still working. Smoke detectors usually last about 10 years, while carbon monoxide detectors last about five. They should have the date they were made on them, so you can replace them when they're ready.
The Grass Is Always Greener
While you look forward to putting your lawnmower away for the year, the yard work isn't quite done yet! It may seem like the warm months are the only times you need to worry about your lawn but getting your grass ready for winter makes your job a lot easier when spring rolls back around.
If you want to get a jump start on your green summer grass, you can fertilize your lawn with winterizing fertilizer. This will help your grass save nutrients that will last through the cold winter months and boost their growth once the weather starts to warm up again.
Brrrrring on The Snow
You might not want to think about snow just yet, but if you wait until right before the first storm hits, your chances of finding salt and a snow shovel might be slim to none. Fall is the perfect time to dig your snowblower out from the back of your garage, grab salt from your local hardware store, and get a new shovel that won't crack with the first heavy snow of the year.
This may seem like a lot, but home maintenance is important. Making sure your home is ready for winter can keep you and your family safe and save you a lot of money and stress before the first snowfall.
For all your home-preparation needs, contact The Wagley Group. Our team of Realtors will be happy to assist in making your house a home this winter.
Adrian Office: 517.265.6000
Manitou Beach Office: 517.547.6000